Scotland's Teachers and lecturers will gather virtually this week for the EIS Annual General Meeting (AGM).
The EIS spent much of the past year dealing with the many Covid-related issues facing Scottish education. Although the spread of the virus is greatly reduced, Covid issues – including supporting education recovery and the impact of Covid on the qualifications system – remain likely to dominate proceedings in this year's conference.
The AGM begins on Thursday 10 June and runs until Saturday 12 June.
Commenting, as the final agenda was published, EIS General Secretary Larry Flanagan said, "The EIS is the largest teaching union in Scotland, and the oldest national organisation of its type in the world. The EIS AGM is one of the key events in the calendar of Scottish education, and always sparks considerable debate on the issues facing our education system.
"This year's event is unusual in that it is being held online, as a consequence of Covid, but it will still address important issues including how best to support education recovery for young people in the months and years ahead."
Mr Flanagan added, "We have a total of 44 Motions to be debated at this year's AGM - covering a wide range of Education, Equality, Employment Relations, Salaries and Organisational matters.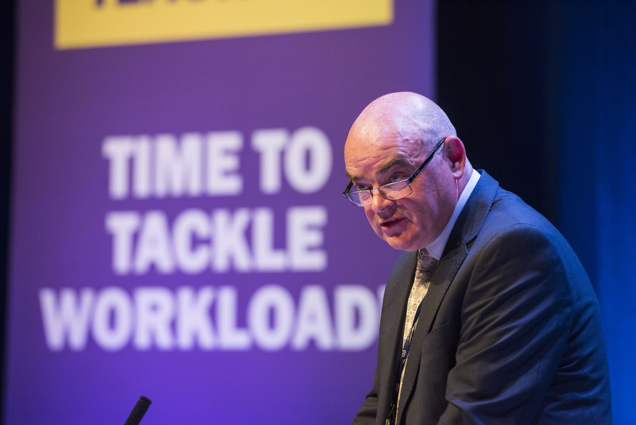 "The AGM will shape the priorities for the EIS, and for Scottish education, in the year ahead. As you would expect, the impact of Covid is the main theme that will run throughout this year's AGM. Supporting education recovery must mean investing in education provision, including through employing more teachers in our schools.
"It also means providing enhanced and tailored support for the young people, particularly those living in poverty or who have Additional Support Needs, who are more likely to have been further disadvantaged during lockdown.
"The recent concerns over the impact of changes to the qualifications system – including the severe additional workload pressures and stresses that have been placed on many students and teachers – is likely to be a hotly debated issue at AGM."
In addition to the debate of Motions, the AGM will feature keynote speeches by EIS President Carole Thorpe (Thursday) and General Secretary Larry Flanagan (Friday afternoon). On Thursday, the AGM will hear from Kevin Courtney, Co-General Secretary of the National Education Union (NEU), who will provide a South-of-the-border perspective on the challenges facing education.
On Friday morning, the AGM will hear from guest speaker Shirley-Anne Somerville, the recently appointed Cabinet Secretary for Education in the Scottish Government. Ms Somerville will be delivering one of her first major speeches since being appointed, before engaging in a question-and-answer session with AGM delegates. The entire AGM will be streamed live via the EIS Facebook page.